A Touch Of Class: Fawlty Towers: Season 1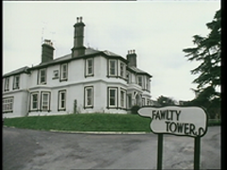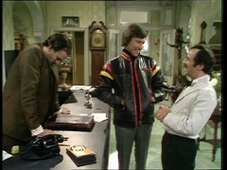 A Touch Of Class SYNOPSIS:

Fawlty Towers is making money but Basil wants to have his idea of "a better class of guest". He advertises to the gentry in A Country Life magazine against Sybil's wishes. His wife's instructions to put up a painting and type the lunch menus are interrupted by new cockney guest Mr. Brown who can communicate to non English speaking porter / Waiter Manuel in Spanish and flirts with Polly but is treated with disdain by Basil.

Basil's attitude changes with the arrival of Lord Melbury who he fawns over. He moves a family of guests during their meal to give Lord Melbury the best table in the room. After accidentally knocking over the seated Melbury while insulting Mr. Brown, the Lord asks Fawlty to cash him a cheque for two hundred pounds. Polly meets Mr. Brown in town and he reveals he is an undercover CID man aiming to catch the con man posing as Lord Melbury.

At the hotel bar, Mr. Warring and his family who were moved during lunch, Finds himself again ignored by Basil as he tries to order a round of drinks as Fawlty again fawns over Lord Melbury agreeing to lend his coin collection so Melbury can have it valued. Basil dismisses Polly's warnings about Melbury until Sybil removes Melbury's valuables case from the safe and reveals the contents is actually two house bricks.

Sir Richard and Lady Morris arrive having responded to Basil's advertisement to be greeted by an angry and distracted Basil at the front desk who insults Lord Melbury in front of them. The police pursue Melbury through the hotel and the disgusted Morris' leave. Although now distraught Basil continues putting the picture up until Mr. Warring again interrupts him with his drink order.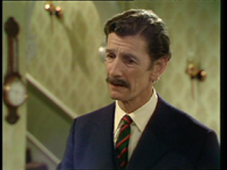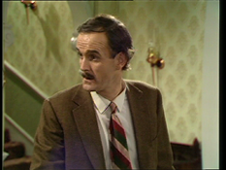 A Touch Of Class CAST & CREW

Stars:

Basil Fawlty: John Cleese
Sybil Fawlty: Prunella Scales
Manuel: Andrew Sachs
Polly Sherman: Connie Booth
Major Gowen: Ballard Berkeley
Miss Tibbs: Gilly Flower
Miss Gatsby: Renee Roberts

Guest Stars:
Lord Melbury - Michael Gwynn
Danny Brown - Robin Ellis
Sir Richard Morris - Martin Wyldeck
Mr. Mackenzie - David Simeon
Mr. Wareing - Terence Conoley
Mr. Watson - Lionel Wheeler

Production Staff:

Writers - John Cleese & Connie Booth
Director - John Howard Davies
Producer - John Howard Davies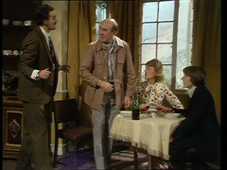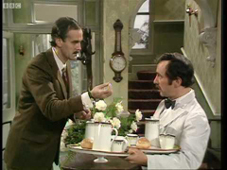 A Touch Of Class REVIEWS:

Goldby

A Touch Of ClassHere we go with the very first episode of Fawlty Towers, A Touch Of Class. A great opener solidly establishing Basil Fawlty's credentials as a sarcastic fawning snob and hopelessly inept manager. Any guest he meets who's working class or has a common accent he flatly refuses to help or acknowledge and treats with utter disdain unless they have high professional credentials or come from a rich background or peerage.
It establishes the other characters well starting with Manuel, the put upon Spanish waiter whose grasp of English is so poor in A Touch Of Class, that a couple of lines of dialogue indicate the Fawlty's have not long hired him. Sybil doesn't have much to do but a couple of lines of dialogue firmly lay down that she wears the pants in the hotel and the much larger Basil is kept on a very short leash by her. Polly gets a few lines too flirting with one of the guests and we're also introduced to the dotty old Major and Miss Gatsby and Miss Tibbs.
But the whole plot is centred around John Cleese's comic turn as manic Basil Fawlty and showing how his character relates so differently to the common Mr. Brown to the supposed blue blood Lord Melbury. This and his golden treatment of Lord Melbury at the expense of other guests leaves little room for any of the other main characters to do something apart contribute a few one liners. That and the confidence trickster plot leaves room for little else. All the guests are played well from Melbury to Brown. It's not the best episode by any means but a fantastic opening one and head and shoulders above most sitcoms when comparing opening episodes of other shows.
7/10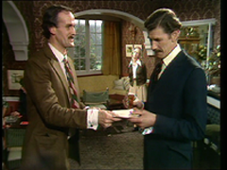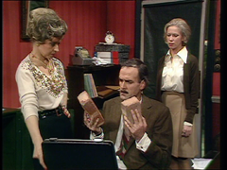 Return from A Touch Of Class to Fawlty Towers

or

Return to the Old TV Shows home page