The Office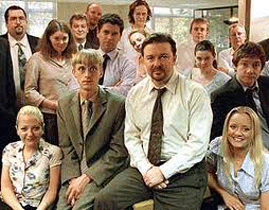 The Office suddenly appeared out of nowhere in the early 2000's and quickly shot to the top of the comedy ladder becoming a Brit com phenomenon. It shook TV comedy out of it's lethargy and formula being daring, documentary style and incredibly well written. It took cringe worthy comedy and painfully embarrassing situations to the next level and has had an influence on the next decade of UK TV comedy.
It starred then unknown Ricky Gervais long before he rattled cages hosting the Golden Globes as the dullard, self obsessed David Brent and was written by him and writing partner Stephen Merchant. The mock-umentry series was set in the offices of paper merchants Wernham Hogg, in the British suburb of Slough. Following the embarrassing daily office antics of Office manager David Brent and his long suffering and insufferable work colleagues.
David Brent believes he is the world's funniest and most easy going boss, except that he's not well liked or respected... He's supported by army obsessed team leader Gareth Keenan(Mackenzie Crook) whose an even more delusional than Brent. The vaguely normal office workers include the personable and capable Tim Canterbury (Martin Freeman) who yearns for friendly but engaged receptionist Dawn Tinsley (Lucy Davis). Others include ice cold but attractive Jennifer Taylor-Clarke (Stirling Gallacher), joker and ladies man,Chris Finch (Ralph Ineson), Big and boring Keith (Ewen MacIntosh) and in series 2 new, popular and more capable boss Neil Goodwin (Patrick Baladi) arrives with other Swindon employees
As the "documentary crew" observe the daily office rituals such as training and meetings to the trials such as downsizing and redundancies to the fun of, office Christmas parties and pub quizzes. It's interspersed with interviews with the main Office staff giving their opinions on the office and life in general.
It's knuckle biting humour that can make you cringe or belly laugh at certain situations. It may be too close to the bone of office life if you've worked in an office but represented is every typical office character from the office slut, officious team leader and sexist sales reps. Enjoy the first ever bite of Gervais and Merchants spot on tasty but but spiky humour and awesome recreated observations of office life with David Brent taking the crown for the best comic creation on Brit TV for a long time.
---
Return to the Old TV Shows home page