Spaced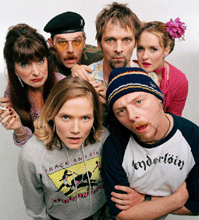 It could be one of the most unsung British sitcoms of it's time or of ALL time but it's still timeless despite it's limited main stream success on telly. But to anyone who's a huge comic, sci-fi, movie buff or even if your not into spotting the many film references and like a good belly laugh and touches of romance and ironic wit then you should follow SPACED.
Starring now very recognizable actors Simon Pegg and Nick Frost of Shaun Of the Dead, Hot Fuzz, Paul fame and co-starring and co-written with Pegg by the funniest sitcom actress next to Julie Louise Dreyfuss of Seinfeld, the U.K's lovable Jessica Stevenson (now Jessica Hynes) and directed by Edgar Wright (now sizzling Hollywood). It covers the lives of two late twenty somethings, the grumpy, skateboarding Tim Bisley and the dorky, jolly Daisy Steiner who both find themselves homeless and suddenly partnerless when they meet up in a coffee shop somewhere in Suburban London and agree to pose together as a profeesional 'couple' so they can secure a new flat together and get ahead of the flat hunting rat race.
Of course their somewhat askew goals of Daisy's attempt to become a recognized writer and Tim a famed comic book artist AND writer see their lives get tangled in their own antics and that of their eccentric, constantly pissed Landlady, Marsha (Julia Deakin), downstairs neighbour the even more eccentric avante garde painter Brian (Mark Heap) and of course Tim and Daisy's respective best friends, army obsessed Mike (Nick Frost) and preening upstart Twist (Katy Carmichael). Tim and Daisy 'pretend' to be a couple to secure Marsha's downstairs flat and unfortunately have to keep the flimsy ruse up even down to making the odd bout of made up sex noises whilst they try to drive their picked careers.Tim being derailed from his artistry by bouts of booze, drugs and part time work at the local comics shop or Daisy being distracted by...plain laziness or plans to get a dog (called Colin)or have a house warming party.
Their careers stall as they all participate in everything from raves, paint balling to tackling the red hand gang, Matrix Style agents and robot wars but they do it with warmth, wit and huge dollops of imagination and daydreaming asides that resemble scenes from many a favourite cult classic movie.Pick them all if you dare!
23 Meteor Street is where it all happened now and ended just over a decade a go and over a spread of 14 episodes outdoing Fawlty Towers by 2! It's got wit aplenty and visual and written gags just get stronger and more springy with every episode...sort of like celery. Enjoy the early noughties in raving style. Spot the many special guests stars from Bill Bailey, Peter Serafinowicz and Reece Sheersmith and enjoy one of the funkiest UK Comedies ever made. (Directors choice 2008 or was it 2009?)
---
Return to the Old TV Shows home page