Fawlty Towers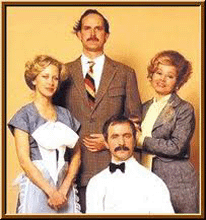 One of the most recognizable British sitcoms in the world and one of the most richly comic ever devised by former Monty Python member John Cleese and his then wife Connie Booth who both co-wrote and starred in the series. Booth as the level headed, cool, slightly flustered chambermaid Polly and Cleese as her boss Basil Fawlty.
A man who lives up to his surname impeccably by being stuffy, arrogant, sarcastic and rude to his guests and staff but also cowardly, and easily embarassed in the situations he finds himself in as only someone as British as Fawlty could be. However you do feel some sympathy for him, kept in his place by his henpecking but somewhat lazy wife Sybil, brilliantly played by Prunella Scales and frustrated by his even more inept Spanish waiter and porter Manuel played superbly by Andrew Sachs whose grasp of English has never been the best and doesn't much improve over the series run.

Other characters that made up the eccentric flavour of the hotel included, long serving residents the increasingly forgetful Major Gowen, Miss Tibbs and Miss Gatsby and in series 2 Terry the cockney chef. Despite the many faults of Fawlty, he manages to fall into the trickiest situations each week not of his own making whether it be dealing with particularly stupid guests, mincing cultural barriers in the worst possible way to any foreign guests be they German, French or American. He manages to bring out the worst in people and some guests bring out the worst in him as he and his staff try to resolve the situation he has unintentionally got them into.

Hard to believe Fawlty Towers first opened it's doors for service some 35 years ago and in only 12 episodes brought enough comic, memorable moments and plain social awkwardness ever seen on display that it's no wonder so many people think there are more episodes that what there were made.

If your after a true comedy classic made in the British golden age of comedy in the 70's tune into Torquay's most ineptly run hotel.


---
Return to the Old TV Shows home page