Back: Spaced: Season 2
Back SYNOPSIS:

Daisy returns to London after an extended holiday touring Asia to find that Mike has moved into her bedroom in her absence but also that Tim and Mike have both genuinely missed her. Suffering from the post travel blues shes annoyed that Tim and Mike have fallen asleep seconds travel diary videotapes
Daisy consoles herself catching up first with Brian who thanks her for introducing him to his now girlfriend Twist and then with Marsha who drops in to hear her travels and some wine. Daisy confesses to her about the male travel buddy she made, Stephen Edwards who mysteriously disappeared on her.
Two secret service agents are going through Daisy's bag wrongly acquired at the airport and they find her address and head to the flat. Tim and Mike try to cheer Daisy up at the local pub where the secret service men track them.
They all escape thanks to Daisy's newly acquired martial arts skills but at home they find the agents waiting for them Brian having let them into the flat. They are about to take Daisy away for questioning but Marsha has the crucial piece of evidence to prove Daisy's innocence.




Back CAST & CREW

Stars:

Tim Bisley: Simon Pegg
Daisy Steiner: Jessica Stevenson
Mike Watt: Nick Frost
Brian Topp: Mark Heap
Marsha Klein: Julia Deakin
Twist Morgan: Katy Carmichael
Aida the Dog - Colin

Guest Stars:

Mark Gatiss - Agent 1
Kevin Eldon - Agent 2
John Simm - Stephen Edwards

Production Staff:

Writers - Simon Pegg & Jessica Stevenson
Director - Edgar Wright
Executive Producer - Lisa Clark
Executive Producer - Tony Orston
Line Producer - Karen Beever
Producer - Nira Park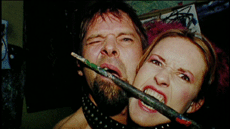 Back REVIEWS:

Goldby

Let's be honest Back is a good season opener, both Tim and Daisy provide the opening narration which one by on re-introduces all the characters from the first series without having to give their full back stories. The only notable differences with the stars is Tim's hair is noticeably almost peroxided to glowing white blonde and Jessica Hynes has slimmed down quite noticeably not being quite the frumpy Daisy of the first series.
With all the characters settled, unlike the first series the story charges ahead and everyone has bits to do, not just one or two characters. Director Edgar has the pace moving at an even more breakneck speed and new visual ideas abound constantly. The plot unfolds around Daisy returning from Europe and suffering the post travel blues while trying to re-integrate back into life into the Meteor street flat.
The story is an undemanding one and is coupled with the story of Daisy's erstwhile traveling companion the mysterious Stephen Edwards (in a great cameo by John Simm) whose secret planting of information on Daisy has led to her, Tim and Mike being pursued by sub Matrix style agents.
Although this agents premise almost takes a running charge at the "jumping the shark" idea, it's sort of saved by Tim and Daisy's dialogue at the end, "today sort of seemed unbelievable". Still with the massive Matrix homage we're belted over the nut by a feast of movie references from Manhattan to Pulp Fiction, the latter being pure gold plus the usual peppering of Star Wars dialogue neatly into the script.
Nice continuity flow from the first series with Brian and Twist now heavy boyfriend and girlfriend, Daisy having sold some articles while some new ideas are thrown in to build up this seasons plot threads including Mike having moved into the flat. All in all a 6/10 is warranted sir!
favourite bits:
Daisy's jet lag nap
The quick Polaroid review of Brian and Twist's relationship.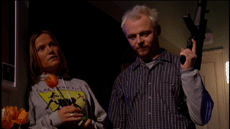 Return from Back to Spaced

or

Return to the Old TV Shows home page