Battles: Spaced: Season 1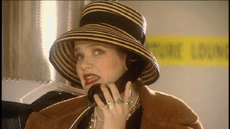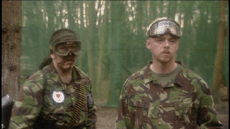 Battles SYNOPSIS:

Daisy's real boyfriend Richard, studying in Hull, dumps her via the phone and Tim's feeling down after getting an apology letter from his ex girlfriend about dumping him. Daisy seeks solace talking to Marsha and nearly lets slip that she and Tim aren't really a couple. She changes her slip of tongue into a request to keeping a pet dog.
Tim is not happy about this turn of events as he reveals he has a deep seated fear of dogs since a couple of nasty childhood incidents. After convincing Tim that should get one, she and Twist head to the pound to pick one out.
Mike and Tim head to the local paintball game where they unexpectedly run into Duane Benzie, the man who stole Tim's girlfriend Sarah away from him. Not wanting a confrontation Duane reveals he wants to be friends but his agenda on the paintball battelfield is quite different.
Daisy picks out a small dog naming him Colin and Brian reveals to her he had a similar dog whose death made him what he is today. While at paintball Mike deserts Tim when his feelings get hurt by his friend, leaving Tim alone against Duane in the final paintball gun showdown or will he return to help?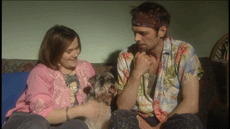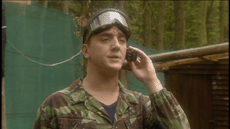 Battles CAST & CREW

Stars:

Tim Bisley: Simon Pegg
Daisy Steiner: Jessica Stevenson
Mike Watt: Nick Frost
Brian Topp: Mark Heap
Marsha Klein: Julia Deakin
Twist Morgan: Katy Carmichael

Guest Stars:
Peter Serafinowicz - Duane Benzie
James Lance - Richard
Anna Wilson Jones - Sarah
Richenda Carey - Clerk at Dog Pound
Paul Putner - Paintball Player
Jessica Stevenson - Amber's Voice
Aida the Dog - Colin

Production Staff:

Writers - Simon Pegg & Jessica Stevenson
Director - Edgar Wright
Executive Producer - Humphrey Barclay
Executive Producer - Tony Orston
Line Producer - Karen Beever
Producer - Gareth Edwards
Producer - Nira Park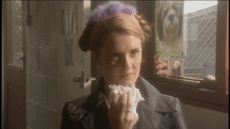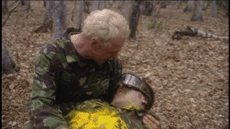 Battles REVIEWS:

Goldby

Being a paint ball veteran is probably why this episode is one of my favourites. Spaced is hitting the ground running by this point in the first series, being so chock full of gags firing at machine gun like rapidness, especially the interaction between Tim, Mike and another paintball player undercover in the battlefield, the scripting is tighter than a knotted shoelace. Not to mention, for keen movie goers, the increasing volume of film references being flitted about here and there oh so subtley blended into the script.
Two big debuts in this episode, the wonderful hulking, raspy voiced Pete Serafinowicz (who voiced Darth Maul in Star Wars 1: Phantom Menace) as Tim's arch nemesis, the man who wrecked his life by stealing his girlfriend and getting him kicked out of his home - Smarmy, self assured prick Duane Benzie. They're confrontations are hilarious and Benzie seems like the type of guy who Tim could never get the best of but somehow does in true movie tradition.
The other big debut is Aida the dog, the little schnauzer ( is that the breed?) that has been cast as Daisy's dog Colin, yes it's not a cartoon dog, which is weird for such a surreal series but a real one that has a personality just from it's look. The other characters provide support and have their moments such as Brian's revealed problem to dressing his pet dog up as an Elizabethan merchant.
Marsha and Twist are both featured but it's Mike who's served best in this episode.He's shown to a bigger extent than before and in his element joining Tim on the paint ball battlefield and when it comes to war you know Mike is going to take even paint ball games up a few notches armed with two guns, bandoliers and carrying a knife. Still the final showdown where Duane's gets his comeuppance
will have you cheering and Mike has a memorable "death scene" which wrings out every cliche from every war and buddy cop movie death scene ever made. A salute to cheese. Mines a 9.5/ 10
favourite bits:
Tim's imagining of himself as an evil mastermind and diving through a window.
Tim and Duane's face off banter and Mike's ultimate sacrifice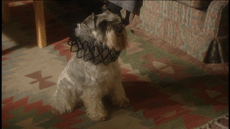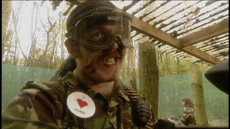 Return from Battles to Spaced

or

Return to the Old TV Shows home page