Chaos: Spaced: Season 1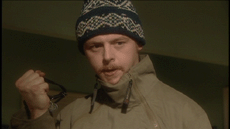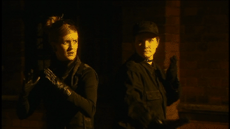 Chaos SYNOPSIS:


Tim's telling everyone from Mike to his comic shop boss Bilbo about how much Daisy has changed since she got her new dog Colin. Her moods on the upswing but his isn't due to his deep seated fear of dogs. No one seems to be aware of an evil and suspicious looking man lurking round every corner spying on Daisy with Colin.
Brian comes up to watch the original Star Wars trilogy with them both and following this and Jaffa cakes, Tim is cajoled into taking Colin for a evening walk to get to know the dog better but Colin is abducted from the end of his leash in a nearby park when Tim isn't looking.
Tim is the number one suspect in Colin's disappearance but once Daisy has calmed down they find out the truth from an anonymous letter that arrives giving Colin's whereabouts. An eccentric scientist has stolen Colin and put him with other abducted animals he plans to experiment on. Tim and Daisy assemble the group for a covert operation to get Colin back.
Daisy, Tim, Mike, Twist and Brian manage to break in that night, Brian and Mike take the security guard prisoner and with Daisy and Twist standing guard Tim breaks into the kennels to grab Colin. Unbeknownst to them all though, as the alarms go off they find help in Colin's rescue from an unexpected source.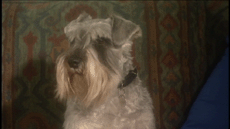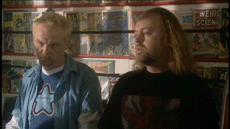 Chaos CAST & CREW

Stars:

Tim Bisley: Simon Pegg
Daisy Steiner: Jessica Stevenson
Mike Watt: Nick Frost
Brian Topp: Mark Heap
Marsha Klein: Julia Deakin
Twist Morgan: Katy Carmichael
Aida the Dog: Colin

Guest Stars:
Bill Bailey - Bilbo Bagshot
Charles Dale - Security Guard
Jeremy Peters - James Eldridge

Production Staff:

Writers - Simon Pegg & Jessica Stevenson
Director - Edgar Wright
Executive Producer - Humphrey Barclay
Executive Producer - Tony Orston
Line Producer - Karen Beever
Producer - Gareth Edwards
Producer - Nira Park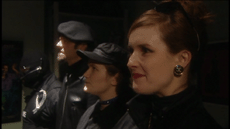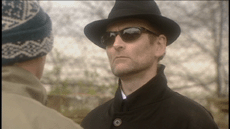 Chaos REVIEWS:

Goldby

It's Spaced so it's bound to be an episode with a lot to offer and doesn't disappoint. Like the up coming robot wars episode this one seems to almost head to jumping the shark territory even for a wacky out there series. Maybe as the plot is very Colin centric centered around the plight of their dog? never work with animals or kids they say in show biz!
All the diverse characters seem to be blending well together as a group despite all being so totally different from each other as evidenced in Tim's covert operation briefing segment in the flat or the actual break they attempt at the end. Mike and Brian have a weird synergy in their scenes together, a complete odd couple.Also just from one or two comments, it's obvious there is some past between Brian and landlady Marsha and that Twist also seems to have a growing interest in the moody artist. In fact Twist is given more exposure in this episode and development if there can be any of her very shallow character Twist.
The music choices by Guy Pratt keep getting better with every episode and he even makes a cameo as Minty the man who trains his attack dog, Gramseci to only attack the upper classes. Of course relating this story making his first lengthy Spaced appearance is frazzled comic Bill Bailey who few brief lines are all gold!
One liners, asides and an ever increasing rollicking pace from director Edgar Wright not to mention the snappy editing during the break in scenes make this a fine edition but Chaos is perhaps the low point of series 1 for me enlightened by the presence of comic genius Bill Bailey.
5/10
Favourite bits:
Brian and Tim's massive equation and Star Wars theories topped by jaffa cake revelations.
The giving out of Star Wars code names before headig out on the rescue mission - "is Jabba the princess?"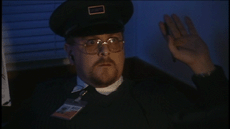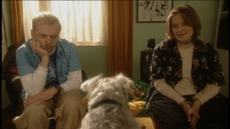 Return from Chaos to Spaced

or

Return to the Old TV Shows home page