Downsize: The Office: Series 1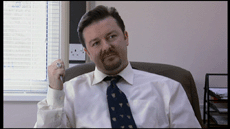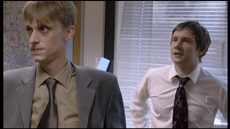 Downsize SYNOPSIS:

The cameras roll at paper Merchants Wernham Hogg for a documnetary on the office and its eccentric manager David Brent. Brent is giving a new forklift drivers job to a man not yet qulified for the position to show off his company "connections".
After accidentally insulting his receptionist Dawn with some failed humour David meets with his boss, Jennifer Taylor Clarke who informs David the company will have to downsize and either his Slough branch or the Swindon branch will be closed down with redundancies to follow.
Tim and his desk "mate" Gareth argue about Gareth's childish rules which culminates in Tim's practicval joke of putting Gareth's stapler in jelly. Brent tries to quell the rising rumours of the downsize and redundancies with an official meeting guaranteeing he will protect their branch.
While David tries to help new temp Ricky settle in, Tim and Dawn indulge in some playful office flirting that is until her fiance Lee arrives from the factory downstairs to take her home.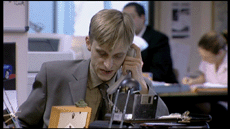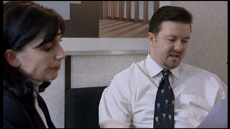 Downsize CAST & CREW

Stars:

David Brent: Ricky Gervais
Tim Canterbury: Martin Freeman
Gareth Keenan: Mackenzie Crook
Dawn Tinsley: Lucy Davis
Oliver Chris: Ricky Howard
Jennifer Taylor-Clarke: Stirling Gallacher
Joel Beckett: Lee
Robin Hooper: Malcolm
Ralph Ineson (voice only): Chris "Finchy" Finch

Featuring:

Ewen MacIntosh: Keith
Paul Sharma: Sanj
Yvonne D'Alpra: Joan
Ben Bradshaw: Ben
Angela Clerkin: Jackie
Jamie Deeks: Jamie
Neil Fitzmaurice: Alex
Jane Lucas: Sheila
Alexander Perkins: Ralph
Emma Louise Manton: Emma
Philip Pickard: Phillip

Production Staff:

Writers - Ricky Gervais & Stephen Merchant
Directors - Ricky Gervais & Stephen Merchant
Producer - Ash Atalla
Executive Producer - Anil Gupta
Executive Producer - Jon Plowman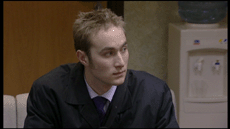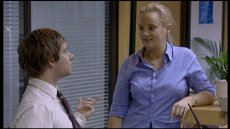 Downsize REVIEWS:

Goldby

There's a lot of Brentisms that pop up in this series named as such none other than David Brent and his entire arsenal of crazed mannerisms, phrases and physicality is on display in the very first scene as he interviews someone for a job.
Apparently Ricky Gervais first ever acting role who would have known what gold he could bring forth? There's absolutely no doubt that Brent is a wanker - even called one at the end of the episode by his secretary for reducing her to tears with a sad practical joke. He seems capable of running an office despite being an idiot but over the course of 30 minutes it's then obvious he can't reaaaaaalllly do it properly
There's no holding off on the first series premise as "WHAM" a couple of scenes in and David's boss the stunning but hard edged Jennifer Taylor Clark played by Stirling Gallacher tells David the company is downsizing and one of their branches will go.
As the office gossip gets out and floats round on this subject all the characters are really set up well with one of the best ever Tim and Gareth stouches showing Tim obviously dishing out practical jokes in response to Gareths petty authority chucking his stapler out of the window or setting it in jelly.
Dawn, the pretty office receptionist also set up well seems capable and normal but already seems to have a knack of being in the wrong place enduring weird moments such as Brent confessing about his testicular cancer scare.
Any characters who get their mugs in close up responding to interviewer rubber stamps what type of office git they are but it's Tim who gives the most honest answer admitting he's boring himself responding to questions about work.
The cringe factor cranked up with several almost unbearable moments when you can almost not laugh as it's too awkward or just too damn close to a depiction of what a real life office is like. Greta start to the mockumentary - 8/10
Favourite bits:
Tim's explanation if someone outside is killed by Gareth's falling stapler.
Most Cringeworthy:
Brent's "your fired" joke to Dawn goes so badly wrong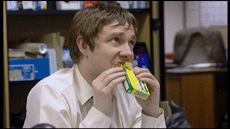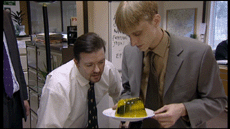 Return from Downsize to The Office

or

Return to the Old TV Shows home page