Ends: Spaced: Season 1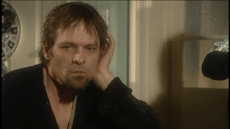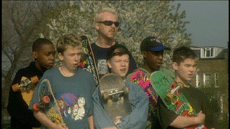 Ends SYNOPSIS:

Another lazy afternoon watching Tim's home video of his skateboarding exploits is interrupted by a phone call from Tim's ex girlfriend Sarah. She wants to catch up and Tim is more than keen. Daisy complains to Twist and Brian that Tim's walking into a romance trap and Brian finally asks Twist out to an exhibition with him.
Sarah tells Tim she's split up with Duane a piece of news that Daisy isn't happy to hear as Tim's going to dinner with Sarah and it may well result in him moving back in with her. In the meantime Tim takes Mike for his re-evaluation at the Territorial army and it's finally revealed what happened when they were kids that prevented Mike going into the regular army.
As Mike goes through a grilling interview to find if he can be re-admitted into the TA, Tim and Daisy have a huge row about Sarah and Tim leaves in a huff. Marsha arrives shortly after and finally reveals to Daisy her sordid past with Brian. But Brian's mind is on Twist, the exhibition date ends with the promise of another.
Mikes back in the TA, and at Marsha's drunken persuasion Daisy finally gets out her typewriter and begins to hammer out heaps of new articles, while Tim heads to the meeting with Sarah which may see the end of the flat but to Daisy's surprise she gets a call from Tim to join him for a drink, he knocked Sarah back and is staying on at the flat.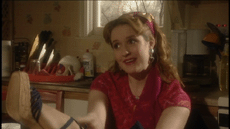 Ends CAST & CREW

Stars:

Tim Bisley: Simon Pegg
Daisy Steiner: Jessica Stevenson
Mike Watt: Nick Frost
Brian Topp: Mark Heap
Marsha Klein: Julia Deakin
Twist Morgan: Katy Carmichael
Aida the Dog: Colin

Guest Stars:
Anna Wilson-Jones - Sarah
Simon Kunz - TA Captain

Production Staff:

Writers - Simon Pegg & Jessica Stevenson
Director - Edgar Wright
Executive Producer - Humphrey Barclay
Executive Producer - Tony Orston
Line Producer - Karen Beever
Producer - Gareth Edwards
Producer - Nira Park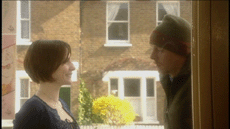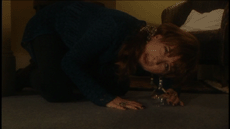 Ends REVIEWS:

Goldby

And now the Ends is near...
It could well have been that this was the finish of Spaced and Ends would have still been a nice way to wrap it up. But instead of being a 7 episode forgotten comedy cult classic it's ratings were enough to ensure it would be a 14 episode semi forgotten comedy cult classic.
After an episode of fun, fun, fun we're brought back to Earth with a new threat to Tim and Daisy's flat mate experience coming to an end and one that ties up the various plat threads neatly woven throughout all the episodes this season. The chief reason being Sarah coming back into Tim's life and wanting to rekindle they're relationship now that she's split up with his arch nemesis Duane, maybe as a result of the wincing paintball injury he received from Tim? Both are convinced it will lead to Tim moving out of beloved Meteor street and back in with Sarah.
Daisy is none to happy about it and lets Tim know on a couple of occasions. It's this episode that really shows the great comic timing and real life friendship Jessica Hynes and Simon Pegg have. The exchanges between them are short, sharp, peppered with gags and never stray from the "serious" bickering subject they are having. The crowning one being inter cut with shots of the fight game Tekken, each insult shown as a clobbering move to opposing Tekken characters.
Their fights ad poignancy to the final scene. Also wrapped up is the subplot of Mike having been kicked out of the TA for stealing a tank and trying to invade Paris. Not only does he get re-evaluated and let back in we also find out about the on going flashback of Tim and Mike as kids that starts but never finishes in about the four or five episodes.
Also across the finish line is we hear Marsha's confession to a long ago unresolved affair with Brian and the latter and Twist finally and awkwardly getting together as withdrawn Brian lets out the equivalent of a tiny fart in feelings and Daisy finally overcomes her season long writers block due to the possible dilemma of Tim moving out and dives back into writing a small block's worth of articles.
Finally we wrap it up as Tim meets Daisy down the pub and he confesses he decided to turn Sarah down, not go back to the past and stay cohabiting with Daisy, something that cheers his flatmate up. It's not really the end just the beginning and Tim and Daisy wind it up by dancing to the local pub jazz band ( that Simon Pegg's father is actually playing in! No really he's renown London Jazz player).
Oh they're still just friends..so it's not too soppy and soap like as the plot sounds anyway. But it's a good way to wrap it up just in case the series didn't return and the closing montage of scenes with each of the characters to the music is a classic!
9.5/10
Favourite bits -
The Tekken sequence argument.
Tim's clumsy first meeting with Sarah.
the contrast between Brian and Tim's "victory" dances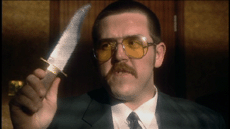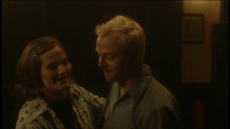 Return from Ends to Spaced

or

Return to the Old TV Shows home page