Epiphanies: Spaced: Season 1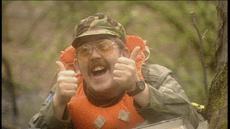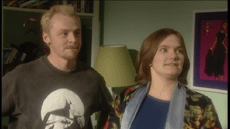 Epiphanies SYNOPSIS:

It's Sunday morning and Brian's is rudely started by a tune on the radio that brings back bad memories of him being beaten up at a pub. Mike's off combat kanoeing with the Rough Ramblers and Tim and Daisy's lazy TV watching is interrupted by Tim's party raver friend Tyers who's been out all night clubbing.
Still in dance mode Tyers tries to get his head round the inter gender friendship of the two and get back the twenty quid he lent Tim. He settles for inviting them out clubbing that night, while Tyers observations of Tim and Daisy raise some issues about their friendship for Daisy. Marsha comes down to console with her tenants after another fight with her daughter Amber.
Mike also needs consoling after being thrown out of the rough ramblers and Tim convinces him to come out with himself, Daisy, Tyers and Twist clubbing to cheer up. While twist and Daisy pick out a dance outfit for Mike, Tim and eventually everyone else including the returned Tyers try to convince Brian to come out he resists until he realises he'll be left behind in the house with Marsha.
The group hit the local club, dancing, reminiscing, bonding and perhaps consuming certain substances even when stuck in the queue. As the night wears on even Brian manages to get into the swing of dancing after a revelation with a fellow clubber. All are feeling the love and Mike comes out of his army shell as the life of the party proving to Tyers that his nights work is done.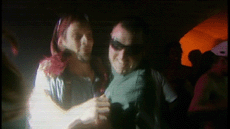 Epiphanies CAST & CREW

Stars:

Tim Bisley: Simon Pegg
Daisy Steiner: Jessica Stevenson
Mike Watt: Nick Frost
Brian Topp: Mark Heap
Marsha Klein: Julia Deakin
Twist Morgan: Katy Carmichael
Aida the Dog - Colin

Guest Stars:
Michael Smiley - Tyres O'Flaherty
Sally Grace - Daisy's Mum
Brett Wilson - Dancer who punches Brian in Flashback / Dancer who hugs Brian

Production Staff:

Writers - Simon Pegg & Jessica Stevenson
Director - Edgar Wright
Executive Producer - Humphrey Barclay
Executive Producer - Tony Orston
Line Producer - Karen Beever
Producer - Gareth Edwards
Producer - Nira Park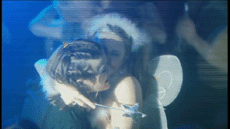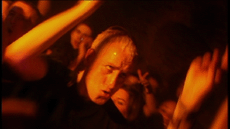 Epiphanies REVIEWS:

Goldby

If you've never been to a rave before you may not get into the Epiphanies episode, then again it may encourage you the viewer to head to one for a first time experience! Or if you can't be bothered going out just stay in and watch repeats of this episode BECAUSE IT'S EXACTLY WHAT HAPPENS AT ONE! With the right group of friends that is and what a right group these are.
Enter Tyers, Tim's other friend we haven't seen or heard about until this episode played to the hilt by Micheal Smily who epitomises the British raver of the late 1990's (that's probably because he was actually living his life like that, see the Spaced documentry on the DVD set!) Tyers breathes some air into Tim and Daisy's life upsetting the maybe too cosy world of the male and female friends and makes some observations that make Daisy wonder why her and Tim's relationship hasn't developed further.
Everyone has known someone like Tyers in their life, a manic party animal who appears charismatically out of the blue, leads everyone out for a killer night of fun, shakes their lives up and leave them to pick up the pieces like a leprechan.But everyone needs shaking up aparat from the aformentioned flat mates, Mike banned from the Territorial Army suffers another blow when he's even banned as a leader from the local scout group for possibly being too military. Brian's depressed trying to think up another way to paint or to get to know Twist better.
And this rave they all go to shakes up the group and makes them all bond closer. Never before and really not since has a rave party at a night club been shown so stunningly accurately in energy and vibe, from the hard core dancing where you sweat bucketloads to the drunken (or something else???) catch up's with 1 or 2 in the group of friends in the chill out room.
It's the sensational editing and choice of dance track that melds this into TV's best ever clubbing depiction and nicely resolves the subplot of non clubber Brain going through his own epiphanie repeating the same knock over drinks incident that got him beaten up 15 years ago provokes the opposite reponse with fellow clubbers.
Old timers if you want to relive the glory days of your mid to late twenties look no further than Epiphanies. It's a throwaway fun episode before the plotty end to the season. Mine's 10/10.
Favourite bits:
Tyers dancing to anything he thinks he can hear making noises in Daisy and Tim's kitchen and his "sudden mood swings"
Mike's admission he had to dress up as an elderly Israeli woman once and his leading the dancers at the end.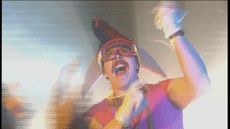 Return from Epiphanies to Spaced

or

Return to the Old TV Shows home page