Gatherings: Spaced: Season 1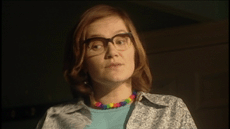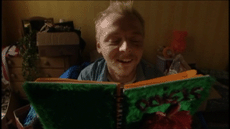 Gatherings SYNOPSIS:

The new flat is taking shape but Tim and Daisy still haven't got used to sharing each others space just yet. While Tim tries to lose himself in drawing some comic artwork Daisy tries all manner of distractions to avoid dealing with her writers block.
Her ultimate solution to get out of work is to organise a housewarming party for that night, inviting everyone they know in the hope it will bring them and their respective friends closer together. Daisy invites Marsha from upstairs, Tim invites Brian from downstairs and their respective best friends Mike and Twist are coming along.
Party time arrives but Daisys choice of lame music and home made decorations and dip don't float Tim's boat. He's more worried that Marsha may figure out they aren't boyfriend and girlfriend but he should be more worried about Brian's suspicions and that his military focused friend Mike has brought along a land mine.
The party goes from bad to sterile with the only media types to turn up at the party being the local paper boy. Brian clocks in on Tim and Daisy's secret but will he keep it secret? And all but Daisy want out of the housewarming to the rocking dance party Marsha's daughter Amber is holding upstairs.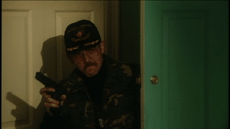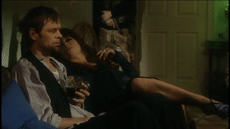 Gatherings CAST & CREW

Stars:

Tim Bisley: Simon Pegg
Daisy Steiner: Jessica Stevenson
Mike Watt: Nick Frost
Brian Topp: Mark Heap
Marsha Klein: Julia Deakin
Twist Morgan: Katy Carmichael

Guest Stars:
Anna Wilson Jones - Sarah
James Lance - Richard
Tony Way - Paperboy
Jessica Stevenson - Amber's voice
Katy Pegg - Amber's friend

Production Staff:

Writers - Simon Pegg & Jessica Stevenson
Director - Edgar Wright
Executive Producer - Humphrey Barclay
Executive Producer - Tony Orston
Line Producer - Karen Beever
Producer - Gareth Edwards
Producer - Nira Park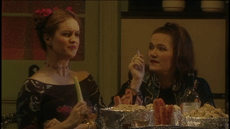 Gatherings REVIEWS:

Goldby

I like music, I like music, I like music...party tape! One element that really sticks out in Spaced is the background music and not the music choice from Daisy's house party tape but the music written by Guy Pratt, it's ambiance sets the tone and accompanies the frenetic pace of the action scenes, it's almost like an unseen cast member a DJ standing just off screen. When his music isn't covering scenes then a well known piece of dance or electronic ambiance will fill the void he leaves perfectly.
But to digress and dive into Gatherings - the second episode. Which continues to build and develop the series and it has been said that a strong opening episode to a new series has to be followed by a stronger second episode and this segment delivers. Most series dealing with new flat mates may see the two main protagonists moving in episode 1 and suddenly best buddies by episode 2 not so in Gatherings.
It follows immediately after the end of episode 1, the morning after in fact with the table littered still by the wine bottles and cowboy hat from the night before. Tim and Daisy's social awkwardness with each other being virtual strangers and suddenly sharing each other's living space is fantastically displayed.
Tim's broodiness, constant comic reading and playing nasty pranks is played up as is Daisy's laziness and writers block. After several lesser distractions she comes up with having a party.Cue the lamest housewarming to ever be coughed up in North London. How did Tim ever get talked into holding it THE NIGHT SHE CAME UP WITH THE IDEA!!! Everyone knows you need at least three weks prep for an awesome house warming bash...sorry.
Anyways the housewarming premise is a nice way of giving the stage over to the other members of the cast we only caught a glimpse of in Beginnings. Brian is played with perfect and contradictory strangeness by Mark Heap. Nick Frost has his first real outing as Tim's best mate, former Territorial Army man Mike. Actually in this episode Mike seems less lovable and more violent, maybe the kinks in character weren't worked out yet? Katy Carmicheal slam dunks the stuffy, gorgeous self obsessed twist who is somehow Daisy's best friend. "I can really see what you tried to do there"
Still thin on plot but fat on laughs this segment serves as a great platform and showcase to the other characters including Julia Deakins suberb Marsha who has some sort of past with Brian.
Favourite bits: Tim "attacked" by his monster costume. Fake sex noises and Brian leaping into the fray to protect Tim and Daisy's couple "secret"
Awesome dip of comedy 7.5/10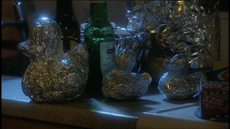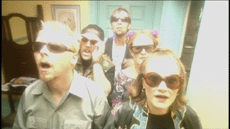 Return from Gatherings to Spaced

or

Return to the Old TV Shows home page