Interview: The Office: Series 2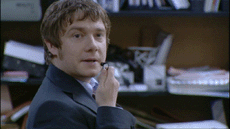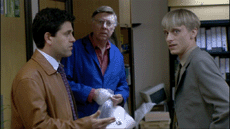 Interview SYNOPSIS:

David Brent faces his last days as Manager at Slough branch secure that he has a public speaking career for Cooper and Webb. A reporter arrives to do an interview with him for an inside trade paper.
Tim distances himself from Rachel more and gets closer to Dawn again while Gareth wrestles with the problems of speaker phones and rubbish toys. The interview goes badly as Brent tries to tell the reporter what to write and Dawn interrupts him to give her resignation as she's going to America.
Tim turns down Neils offer to be caretaker manager and suggests Gareth for the role then breaks up with Rachel to hear shortly after that Dawn is leaving. This prompts him to ask her out again before she leaves in the middle of his documentary interview.
David finds out he is dropped from Cooper and Webb's guest speaker list and disappointed asks the reps and the reporter to leave before he makes a last minute emotional plea to both Jenny and Neil to revoke his redundancy and allow him to stay.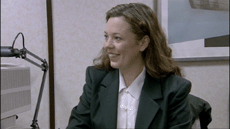 Interview CAST & CREW

Stars:

David Brent: Ricky Gervais
Tim Canterbury: Martin Freeman
Gareth Keenan: Mackenzie Crook
Dawn Tinsley: Lucy Davis
Patrick Baladi: Neil Godwin
Stacey Roca: Rachel
Ewen MacIntosh: Keith
Joel Beckett: Lee
Stirling Gallacher: Jennifer Taylor-Clark

Featuring:

Howard Saddler: Oliver
Rachel Issac: Trudy
Julie Fernandez: Brenda
Ben Bradshaw: Ben
Jamie Deeks: Jamie
Jane Lucas: Sheila
Patrick Driver: Patrick
Tony MacMurray: Tony
Alexander Perkins: Ralph
Emma Louise Manton: Emma
Philip Pickard: Phillip
Ron Merchant: Gordon

Guest Stars:

Tom Goodman-Hill: Ray
Jennifer Hennessey: Jude
Olivia Colman: Helena

Production Staff:

Writers - Ricky Gervais & Stephen Merchant
Directors - Ricky Gervais & Stephen Merchant
Producer - Ash Atalla
Executive Producer - Anil Gupta
Executive Producer - Jon Plowman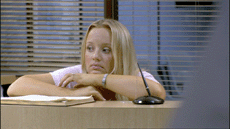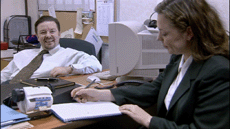 Interview REVIEWS:

Goldby

Taplow...Berfield! Thus does Brent's time at Wernham Hogg come to an end, as he faces up to his redundancy. But man do things continue to unfold for this bloke arguably at an even more rapid rate than last episode. NOt only him but a nice parallel as not only the most disrespetced man in the office going under but the most respected office member Tim also has his entire life unravel.
Brent ends up facing the chop thinking it will lead to horizons new but Cooper and Webb dump him from their list of rostered speakers AND during his interview with a trade paper that totally stuffs up the personal PR he was giving himself with the Interview which was already off the rails thanks to arguing with the reporter on how to write her story.
While Tim loses everything that made him stay at Wernham Hogg losing the girl TWICE in one episode probably a record for any sitcom. First he dumps delicious little Rachel due to his true feelings for Dawn re-emerging then finds out she and Lee are leaving Wernham Hogg for America. As an extra nailin ther coffin he turns down replacing David Brent and recommends Gareth but of course doesn;t get any gratitude from his work mate who tells him he's going to make life deliberately hard for him.
Gervais is rock solid with his acting and you really feel for his sad loser when life's carpet is pulled out beneath him and the ego deflated within minutes so we finally see the real David Brent within who grovels for his job back but fails. It's quite a downward note for the final regular series to end on like the second act of a three act play...surely there has to be a redemption of some sorts???? Or otherwise as Brent puts it...it's just like real life.
Splendid finish and to all concerned who so totally act and react as if they are real people in front of a documentary camera...feel sorry for the Cooper and Webb guys and the reporter who were all told to get out.
7.5/10
Favourite bits:
Brent trying to tellthe reporter how to "write" his quotes
Most Cringe worthy:
Tim breaking up with Rachel.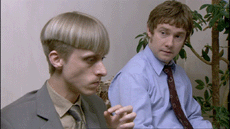 Return from Interview to The Office

or

Return to the Old TV Shows home page