Leaves: Spaced: Season 2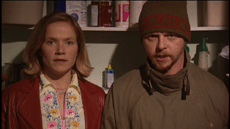 Leaves SYNOPSIS:

Tim and Daisy arrive home to find out Marsha has left after finding out Tim and Daisy lied to her about being a couple and the house has been put up for sale with real estate agents are already showing people through their flat.Brian doesn't know and can't help anyway as he's busy trying to vocalize his emotions. Twist has gone to Manchester and Mike is their only hope.
Despite being still peeved at Tim, Mike agrees to help, although Daisy soon bails on them both to find out where Colin is running off to. They manage though to find Amber's address where Marsha is staying now and, collecting Brian, go off to confront Marsha about the house.
Colin now stays with a lonely little old lady next door who lavishes attention on him, unlike Daisy, and takes off as soon as Daisy takes him back home. Tim, Mike and Brian's pleading with Marsha fails badly and to top it off Sophie arrives and announces she leaving for New York the next day taking a job with Marvel comics.
Tim's indifference to their plight enforces Daisy to leave for the job offer in Colwyn Bay leaving a note for Tim. The end seems nigh for the gang everyone leaves unless someone can come up with something bloody spectacular to win back Marsha and Daisy and save the house, Mike has an idea...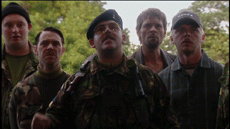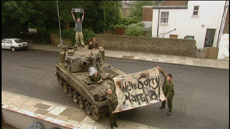 Leaves CAST & CREW

Stars:

Tim Bisley: Simon Pegg
Daisy Steiner: Jessica Stevenson
Mike Watt: Nick Frost
Brian Topp: Mark Heap
Marsha Klein: Julia Deakin
Twist Morgan - Katy Carmichael
Lucy Akhurst - Sophie
Aida the Dog - Colin

Guest Stars:
Reece Shearsmith - Dexter
Jonathan Ryland - Cromwell
Georgina Beer - Old Lady Neighbour
Alex Lowe - Estate Agent
Steven Atholl - Prospective Buyer
Amy Darcy - Prospective Buyer
Jessica Stevenson - Amber's Voice

Production Staff:

Writers - Simon Pegg & Jessica Stevenson
Director - Edgar Wright
Executive Producer - Lisa Clark
Executive Producer - Tony Orston
Line Producer - Karen Beever
Producer - Nira Park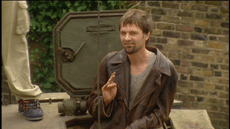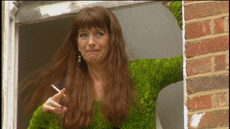 Leaves REVIEWS:

Goldby

Here we are at the final episode of Spaced. And it's a great way to go out. It has the pathos of the last episodes, the jokes of many episodes and a near sad ending which wraps up all the loose ends in the series and brings everyone back together again...almost in a nice bittersweet ending.
It would be interesting to see what writers Pegg and Hynes would have had in store if they did the long stated promise of a third series as apart from Tim and Daisy getting together the series was quite well wrapped up in the end. The centerpiece involved getting Marsha back to the group and Tim and Daisy apologizing for their deception.
Everyone's at odds, not as nastily as in Dissolution but still their is gripes, although Mikes the first one to put his issues on the back burner and help Tim to find out where Marsha has gone and stop her from selling the house. There's a nice nod to the very first episode complete with similar music and a shot of the flat as the real estate shows prospective tenants around.
Leaves isn't as confronting as Dissolution and the humor is back to it's goofiness and not as biting as before and there's sad feelings through the laughs. Daisy is upset she has lost Tim to another woman even though they were just friends and her dog also deserts her, which ends in her leaving. There seems to be no way to talk Marsha out of selling and even Sophie suddenly has to leave Tim for an overseas job offer.
It's just damn good writing by Pegg and Hynes to bring everything to this boiling point,then resolve everything back to the status quo in Meteor street in a couple of scenes. Mike ends up as the one with the brilliant ideas to get Marsha back and it involves the repeating the very crime that got him suspended from the TA and getting Daisy back and Sophie to the airport.
You can't get much more emotional than the ending with barely a couple of words spoken between the stars and a montage of visuals. Even Brian achieves artistic accomplishment with his portrait of Twist that would seem to be his plan for winning her back and Colin returns home.
How quickly things change and how well they've ended, dare you not to tear up or at least think of tearing up by the end...it's just gold. Well done Spaced, no wonder you're such a classic series.
9/10
Favourite bits:
Tim's imagined snog with Marsha.
The opening credits sequence shot for shot matching the hottest show at that time The Royale Family.
The sad but happy ending. Noice.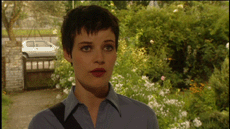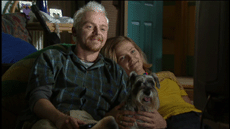 Return from Leaves to Spaced

or

Return to the Old TV Shows home page