Mettle: Spaced: Season 2
Mettle SYNOPSIS:

Tim and Mike reveal their new improved robot they hope to win their quarter final slot in robot Wars with. Daisy is going through temp jobs like hotcakes and gets a new placement at a Mexican restaurant with the kitchen cleaners dealing with the ultimate bitch for a boss.
Tim and Mike turn down a challenge from Dexter and Cromwell, Mike's army colleagues who they beat to get into the Robot Wars quarter finals who are desperate for a rematch. Brian is given a golden opportunity for a permanent gallery residency provided he can come up with an installation in 24 hours at the next gallery exhibition.
Daisy tries to ferment rebellion amongst her fellow cleaners but this only gets her sentenced to the dishwashing chores of the "downstairs kitchen". Dexter and Cromwell destroy Tim and Mikes robot and the timeline for Brian's installation is looming periously close.
Can Tim and Mike re-build their robot and deal with Dexter and Cromwell? And can Daisy lead her fellow cleaners to freedom from the kitchen? Will Brian ever find the elusive missing piece to his artwork display or become part of it?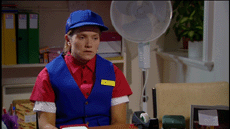 Mettle CAST & CREW

Stars:

Tim Bisley: Simon Pegg
Daisy Steiner: Jessica Stevenson
Mike Watt: Nick Frost
Brian Topp: Mark Heap
Marsha Klein: Julia Deakin

Guest Stars:
Reece Shearsmith - Dexter
Jonathan Ryland - Cromwell
Daniel Ainsleigh - Billy
Joanna Scanlan - Tina
Tim Sampson - Chief
Kevin Cecil - Harris
Paul Mark Elliott - Marty Berghaus
Gemma Padley - Francesca
Clive Russell - Damien Knox
Graham Low - Robot Club Speaker

Production Staff:

Writers - Simon Pegg & Jessica Stevenson
Director - Edgar Wright
Executive Producer - Lisa Clark
Executive Producer - Tony Orston
Line Producer - Karen Beever
Producer - Nira Park




Mettle REVIEWS:

Goldby

Only in Spaced (and maybe Community) could some of the main characters end up fighting in the quarter finals of Robot Wars...one of the many ridiculous competitive game shows on in Britain at that time. As in Chaos from the previous season Mettle is the one episode this year that decides to dip it's toe into "Jumping the Shark" waters, well more like wading in up to the shins.
Still each of the main characters get's equally spotlighted as they all deal with a dilemma particular to their talents. We finally meet some of Mike's rivals in his territorial army platoon in the form of Dexter (The League Of Gentlemen's Reece Shearsmith) & Cromwell, whose robot Tim and Mike beat to get into the Robot Wars quarter finals. The pair extract their revenge on Mike by destroying his nicknamed "Private Iron" robot. Tim and Mike have only a couple of days to re-build Private Iron or lose their Robot Wars spot.
Daisy has been hurtling from one temp job to another and is prompted not to lose this one or she'll lose her spot on the temp agencies books. BUT her new boss is a major bitch and all her fellow staff in the restaurant kitchen turn out not to be just afraid of boss Tina but their failed writers like her. Finally there's Brian who gets his chance to show off his artistic talents at a local gallery thanks to another artist dropping out and has 24 hours to get his installation done.
Well the one liner asides, the editing, the links and homages mix together better than managing to get everything on one's shopping list for half price! Of special mention is the montage of shots cutting between the work, Tim, Daisy and Mike and Brian are trying to do within each of their limited time frames.
It's a satisfying little piece and cue the movie homage-o-meter as it gets cranked up a bit with a blatant but so well done and performed take off of One Flew Over The Cuckoo's Nest surrounding Daisy's kitchen situation and Tim and Mike's plight is a salute to Fight Club. 7/10
Favourite bits:
Daisy's Jack Nicholson-ish outburst at her boss in front of the staff.
Tim and Mike's showdown with Dexter and Cromwell in Robot club.
ALSO Brian's finished piece of artwork looks extrrrrrrrrrrremly cool.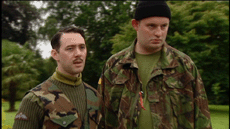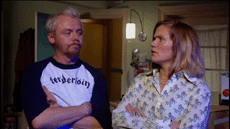 Return from Mettle to Spaced

or

Return to the Old TV Shows home page

div>