The Quiz: The Office: Series 1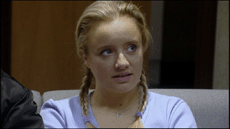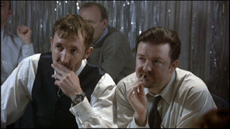 The Quiz SYNOPSIS:

Tim turns 30 and is somewhat bemused the gifts he receives from family and work colleagues. It's also the annual office quiz night of which Brent and his mate, sales Rep Chris Finch, have been champions for the past six years.
But before the big night Office life continues as normal. Brent boasting of his trivia knowledge leads Ricky to reveal he won quiz show Block Busters and can't be stumped on any questions of Dostoyevsky despite Brent trying to top him.
Dawn and Tim pass the time winding up Gareth with gay references to his responses to army combat situations. Fast talker Chris 'Finchy' Finch arrives and points out he's unimpressed with smart university students particularly Ricky.
At quiz night the flow of beer leads to competitive and heated exchanges between Brent and Finch against Tim and Ricky and they former are not pleased with the way the quiz night ends though Tim is even less pleased with how his 30th birthday ends.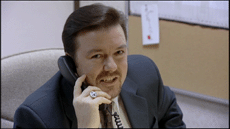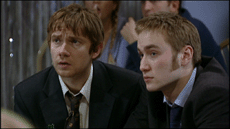 The Quiz CAST & CREW

Stars:

David Brent: Ricky Gervais
Tim Canterbury: Martin Freeman
Gareth Keenan: Mackenzie Crook
Dawn Tinsley: Lucy Davis
Oliver Chris: Ricky Howard
Joel Beckett: Lee
Robin Hooper: Malcolm
Sally Bretton: Donna
Ralph Ineson: Chris "Finchy" Finch

Featuring:

Ewen MacIntosh: Keith
Yvonne D'Alpra: Joan
Ben Bradshaw: Ben
Angela Clerkin: Jackie
Jamie Deeks: Jamie
Jane Lucas: Sheila
Alexander Perkins: Ralph
Emma Louise Manton: Emma
Philip Pickard: Phillip

Production Staff:

Writers - Ricky Gervais & Stephen Merchant
Directors - Ricky Gervais & Stephen Merchant
Producer - Ash Atalla
Executive Producer - Anil Gupta
Executive Producer - Jon Plowman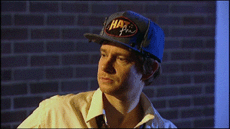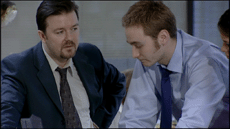 The Quiz REVIEWS:

Goldby

My God how painful to watch the Office is suddenly becoming...not all the time just in certain situations it's so close to real office life...you may notice this if you've been there. This episode ramps up the cringe worthiness to level 9 in some places and for a change Tim is the focus point of the episode. Not only do we find out the genuinely funny and nice Tim is now 30 but he also still lives with his parents.
As Dawn points out to him and Gareth the highlight of you turning 30 is winding Gareth up pretending his gay inferring Tim has way more potential and ability than this office requires but never uses it. The first proper wind up of Gareth in this episode is featured and the first proper words from Lee, Dawn's humourless fiance and his obvious dislike of Tim.
Chris Finch (beautifully played by Ralph Ineson)makes his first appearance, a tall fast talking mumbler full of dirty gags, lecherous comments and thinks he smarter and better than any other man. He such an abhorrent and sad figure and THIS is one of Brent's best friends.
Doesn't say much for Brent that not only does he look up too and follow Chris Finch round like a puppy but is also deluded enough to think he's on the same level as Finchy which isn't a very good level to aspire to. All his talking head interview shots are based around how funny he and Finch as a double act are and how important the quiz night is to them.
The heated competitive antics between Finch and Ricky in the pub almost think you're watching a real documentary plus the sad ending as after losing the quiz to a perceived upstart like Ricky the competitive Finch is all about blaming Brent or Gareth for losing. Another spot on Dawn comment of "sad little men" is notable.
But Tim is one who suffers when Finch decides throwing one of Tim shoes over a building makes him more of man than Ricky. At this point I can't really help but feeling really sad for Tim that on his birthday he has to suffer drunken office antics and be the undeserved butt of total humiliation. It's nasty but this does happen...I've seen it.
7/10
Favourite bits:
Ricky and Brents constant exchange of Dostoyevsky achievements
Most Cringe worthy:
The drunken reactions after Tim has his shoe taken off and thrown away.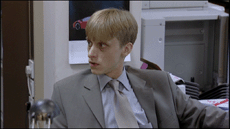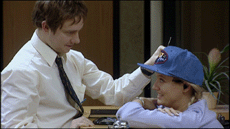 Return from The Quiz to The Office

or

Return to the Old TV Shows home page