Training: The Office: Series 1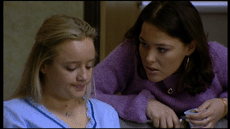 Training SYNOPSIS:

It's Wernham Hogg Training day and outside trainer Rowan going to teach the staff about customer care. Although Dawn is having problems about caring at all having just a had a near break up fight with fiance` Lee.
Rowans video presentation suffers from constant interruptions by Brent and Gareth. Following this he engages David on a role play exercise which Brent fails to grasp the point of and provides some left of field solutions.
Tim tries to console Dawn but fails to do so thanks to Gareth's interference and Rowan's training session is then hijacked by David Brent followed mention of his own band days. Soon he's trying to entertain the training group with his old songs.
Dawn's mention of leaving Wernham Hogg gets Tim thinking and while Brent again tries upstaging Rowan with his interpretations of team problem solving activities. Tim suddenly announces to the group he's resigning and asks Dawn out but she has resolved things with Lee and turns him down.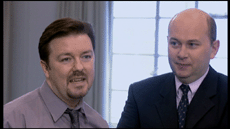 Training CAST & CREW

Stars:

David Brent: Ricky Gervais
Tim Canterbury: Martin Freeman
Gareth Keenan: Mackenzie Crook
Dawn Tinsley: Lucy Davis
Oliver Chris: Ricky Howard
Sally Bretton: Donna
Joel Beckett: Lee
Robin Hooper: Malcolm

Featuring:

Ewen MacIntosh: Keith
Ben Bradshaw: Ben
Angela Clerkin: Jackie
Jamie Deeks: Jamie
Jane Lucas: Sheila
Alexander Perkins: Ralph
Emma Louise Manton: Emma
Philip Pickard: Phillip

Guest Stars:

Vincent Franklin: Rowan
Peter Purves: Peter Purves
Richard Hollis: Man In Video
Lucy O'Connell: Woman In Video (as Lucy O'Connell)

Production Staff:

Writers - Ricky Gervais & Stephen Merchant
Directors - Ricky Gervais & Stephen Merchant
Producer - Ash Atalla
Executive Producer - Anil Gupta
Executive Producer - Jon Plowman


Training REVIEWS:

Goldby

Training is easily the funniest episode of the first series if not the overall series, Brent is at his most hilarious trying to upstage training facilitator Rowan, a man not easy to frustrate but Brent does so with ease as he competes and succeeds in taking control of the training session from Rowan.
The whole 30 minutes is mainly set in the training room with the usual cheesy training videos staff are forced to watch, the teamwork problem solving puzzles and the role plays all the staff have to participate in. Man it's so close to the truth. Except imagine how entertaining it would really be had any training session been populated by a boss as deluded as David Brent.
The fact he gets his guitar out and actually starts playing the songs from his old Band days and reckons he's still got it is astounding. The interesting thing is the staff actually seem in support of his playing and singing and are getting into it but anything would be preferable to a stuffy old training day.
But while the feast of words and one liners surrounds his rendition of Free Love Freeway there's also the character tension bubbling underneath as the Dawn and Lee relationship is fracturing and Dawn is upset for most of the episode as they nearly break off their engagement. Got to admit that Lee is looking a right cock and totally undeserving of Dawn the more we find out about him.
Tim goes from consoling Dawn to musing when announces she wants to leave the office and after more torturous training activities he announces he wants to quit and then the cringe worthy bomb goes off as he comes BACK into the the room and asks Dawn out in front of the whole group and is turned down because SURPRISE her engagement has been patched up. Two episodes in a row have ended up with Tim being slugged with embarrassing moments - ouch!
10/10
Favourite bits:
David Brent explaining the lyrics of Free love Freeway to Tim AND Brent's role plays with Rowan
Most Cringe worthy:
Tim's egg on face moment his offer of a date being turned down by Dawn for Lee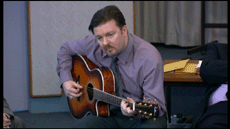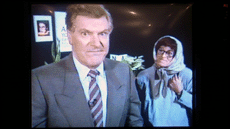 Return from Training to The Office

or

Return to the Old TV Shows home page