Waldorf Salad: Fawlty Towers: Season 2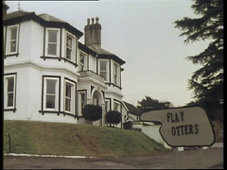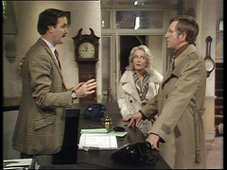 Waldorf Salad SYNOPSIS:

The staff are kept busy during dinner at Fawlty Towers as various guests complain about their meals which Basil fobs off. While Sybil wastes time chatting to one of the guests trying to enjoy his dinner. In the midst of this Mrs. Hamilton arrives at the front desk to check in.

Basil is unaware that her husband Mr. Hamilton is the loud and complaining American guest that arrives after Mrs. Hamilton carrying their bags but soon withdraws his insults. Mr. Hamilton isn't impressed by the fact that he and his wife can't get a hot meal as the chef finishes at 9pm. Despite Basil's protests he finally succumbs to Mr. Hamilton angry offer of a bribe so the chef can stay on past his shift.

Chef Terry manages to extort more overtime out of Basil for missing his Karate class but Basil reneges when he finds out Terry is really going late to date instead. Dismissing Terry he resolves to cooking the Hamilton's meal himself, until Mr. Hamilton starts ordering things not on the menu such as a screwdriver and a Waldorf salad.

Basil keeps up the pretense the chef is still there despite being confused by the Hamilton's orders while Sybil manages to placate the Americans by preparing the meals herself. Basil gets too carried away pretending Terry is still there and eventually gets caught out in his ruse by a furious Mr. Hamilton.

Just before the Americans leave Mr. Hamilton gets the assembled hotel guests to all voice their complaints at Basil and angry at getting no support from anyone and at first he wants all the guests to leave but when Sybil countermands her husband's demand Basil decides to leave Fawlty Towers for good.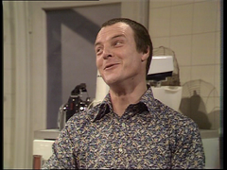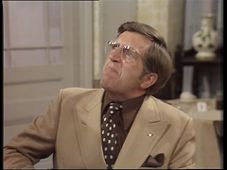 Waldorf Salad CAST & CREW

Stars:

Basil Fawlty: John Cleese
Sybil Fawlty: Prunella Scales
Manuel: Andrew Sachs
Polly Sherman: Connie Booth
Major Gowen: Ballard Berkeley
Terry: Brian Hall
Miss Tibbs: Gilly Flower
Miss Gatsby: Renee Roberts

Guest Stars:
Mr Hamilton - Bruce Boa
Mrs Hamilton - Claire Nielson
Mr Arrad - Norman Bird
Mrs Arrad - Stella Tanner
Mr Johnston - Terence Conoley
Mrs Johnston - June Ellis
Mr Libson - Anthony Dawes
Miss Gurke - Beatrice Shaw
Miss Hare - Dorothy Frere

Production Staff:

Writers - John Cleese & Connie Booth
Director - Bob Spiers
Producer - Douglas Argent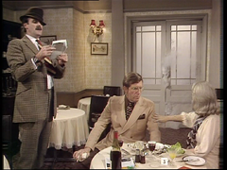 Waldorf Salad REVIEWS:

Goldby

This one doesn't do much for me. It was inevitable really that there would be a Fawlty Towers episode centred round an American guest staying at the hotel and the subsequent clash of English and American cultures. The episode is totally cringe worthy though. It works on some levels but not on others. Every episode has something to recommend it and this is no exception but as a whole it doesn't sustain interest. It also follows hot on the heels of The Psychiatrist which only prominently featured Basil and Sybil and not the other cast members.

It is different in the fact that the American Mr. Hamilton is more than a match for Fawlty in every way. He is a loud, brash and boorish American tourist we may have all met at one time but Bruce Boa also shows Harry Hamilton is also quite courteous and nice if treated properly as he is by Sybil. Though it's this type of American tourist who I would find a right pain in the arse as always crapping on about how inferior everything thing is to the dear 'ol US of A.

The fact that Basil loses the final confrontation with Hamilton as both ask various guests for their satisfaction rating of Fawlty Towers is great but the fact he loses it too such an aggravating and oafish American is hard to take swallow. But you have to sympathize with the way Cleese plays Basil here. He is running around helping Polly and Manuel as best he can with meals taking only complaints about the food and no compliments (maybe the meals really do stink at Fawlty Towers) while Sybil idly chats to a guest.

Perhaps his out burst at the guests is justified in the end? No, not really as a hotel owner he really does have to suck it up and provide proper service all the time. Still his behavior throughout made me cringe. He didn't have to dismiss Terry for the night just sucked it up and given him the bribe. even after letting Terry go his ruse would have worked if he wasn't so over the top convincing the Hamilton's the chef was still there.

Man alive, it's that part of the writing that sticks in my craw. None of the other regulars have anything to do. Brian Hall as Terry does a good job of trying to screw overtime out of Basil and Terrance Conoley returns playing another complaining guest (as he did in A Touch Of Class) but a different character. The final moments are cringe worthy in the fact Basil could have easily avoided this mess. It's too OTT in places, especially Basil's behaviour so going to give it a 5/10.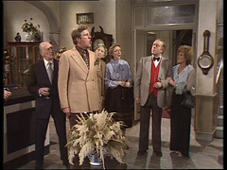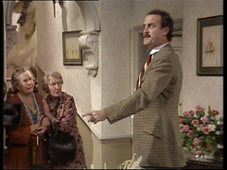 Return from Waldorf Salad to Fawlty Towers

or

Return to the Old TV Shows home page