Work Experience: The Office: Series 1
Work Experience SYNOPSIS:

Brent's lodger and daughter of his closest friends, Donna comes to the office on work experience despite being office eye candy she takes a shine to new temp Ricky and is bemused by Gareth's wakward flirting attempts.
Brent warns the male staff to keep their jands off Donna while boss Jennifer Taylor Clarke returns to find out what cost cutting measures David has taken in relation to the downsizing decision between Slough and Swindon. Neil at Swindon has already made cuts so David bluffs her that he has made some cuts making a imaginary factory worker redundant.
Unfortunately his bluff is called when she drags him to the factory and has to admit his lie and Jennifer is subjected to lurid comments by some idle factory workers. Brent's attempts to save face are madeworse when Donna is shown some office email porn with Brent's face added into the picture.
The annoyed Brent sets Gareth to find out who the culprit was who made the picture and the annoyed Jennifer who asserts that Slough branch is nothing but a boys club and Brent can't do his job forces him into disciplining the uncovered culprit who he thinks is Tim but turns out to be his mate Chris Finch instead who David fails to fire.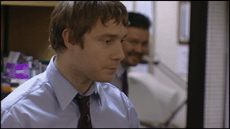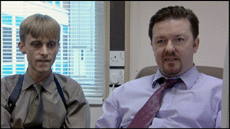 Work Experience CAST & CREW

Stars:

David Brent: Ricky Gervais
Tim Canterbury: Martin Freeman
Gareth Keenan: Mackenzie Crook
Dawn Tinsley: Lucy Davis
Oliver Chris: Ricky Howard
Jennifer Taylor-Clarke: Stirling Gallacher
Joel Beckett: Lee
Robin Hooper: Malcolm
Sally Bretton: Donna
David Schaal: Glyn

Featuring:

Ewen MacIntosh: Keith
Paul Sharma: Sanj
Yvonne D'Alpra: Joan
Ben Bradshaw: Ben
Angela Clerkin: Jackie
Jamie Deeks: Jamie
Neil Fitzmaurice: Alex
Jane Lucas: Sheila
Alexander Perkins: Ralph
Emma Louise Manton: Emma
Philip Pickard: Phillip

Production Staff:

Writers - Ricky Gervais & Stephen Merchant
Directors - Ricky Gervais & Stephen Merchant
Producer - Ash Atalla
Executive Producer - Anil Gupta
Executive Producer - Jon Plowman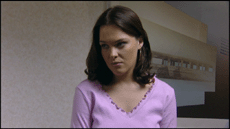 Work Experience REVIEWS:

Goldby

The saga continues...Brent finds out just how well his staff respect him in this episode. Yep! It's not much, in fact not at all, porn pictures with his head attached have been circulating round the office for ages. He has the double whammy of his not just realising the staff don't respect him but neither does his lodger Donna joining Wernham Hogg on work experience. She's young, sexy, grumpy and he is a loser BUT her treatment of him is a bit harsh, I mean he got the tar..the girl a job didn't he?
Another layer of Brent is focused on in this episode, we've seen the wanker side of him now we're served up the prudish, protective side and inability to lie properly...to a woman. In fact it's all about his attitude to women in general, he's scared of his boss but doesn't like a woman having authority over him. Who wouldn't be scared of Jennifer Taylor Clark? She's so professional and intelligent AND HOT!
We get our first look at the factory in this episode...man never seen so many layabouts, thank god real factories aren't like this...I'm joking we all know they're like this...no this time I'm joking you'd never see five factory workers crowded round a TV watching two dogs having sex. You'd see maybe a couple at most watching some girl on girl porn...anyway
It's the first time Brent makes a proper idiot of himself in front of the entire staff and thanks to the cameras he's aware he's doing it too. Gareth Keenan reveals ever more about what a cock he is, a harmless if annoying cock who possesses no manner of social skills and makes his intentions to Donna overly clear.
Poor Tim cops a spray when Brent tries to make an example of him for Jennifer but low and behold it back fires. Office politics - you can't beat it...Yep it really looks like Slough branch is ineffectual thanks to the staff slacking of at the behest of their inept boss - will they keep it up?
7/10
Favourite bits:
Tim and Dawn challenging Gareth to prove that he has the authority to fire people.
Most Cringeworthy:
Brent's on the phone firing of Chris Finch is exposed by Jennifer to be a ruse in front of the staff.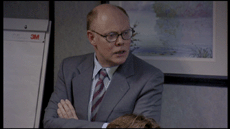 Return from Work Experience to The Office

or

Return to the Old TV Shows home page