Appraisals: The Office: Series 2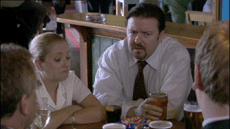 Appraisals SYNOPSIS:

Appraisals time at Wernham Hogg as the staff are given their annual reviews. Tim and Dawn are mystified by some of the wisdom offered during their one on ones with Brent while David is in turn frustrated trying to review the gormless Keith.
A group feedback session with Swindon staff annoys Brent when they criticize the slack office and state they preferred Neil as their boss. He invites them to lunch to prove he's funnier than Neil.
During the fire drill Brenda is abandoned in the stairwell in her wheelchair by Gareth and Brent while Tim and Rachel become better acquainted. Dawns jealously shows when Rachel asks Tim out in front of her while Gareth also makes a failed attempt to ask Rachel out.
Brent's lunch with the Swindon staff is a failure and he takes out his frustrations on Neil when he catches him successfully fooling around with staff.The battle lines are drawn as Neil reprimands Brent for telling him off in front of the other staff.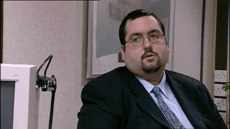 Appraisals CAST & CREW

Stars:

David Brent: Ricky Gervais
Tim Canterbury: Martin Freeman
Gareth Keenan: Mackenzie Crook
Dawn Tinsley: Lucy Davis
Patrick Baladi: Neil Godwin
Stacey Roca: Rachel
Ewen MacIntosh: Keith
Joel Beckett: Lee

Featuring:

Howard Saddler: Oliver
Rachel Issac: Trudy
Julie Fernandez: Brenda
Ben Bradshaw: Ben
Jamie Deeks: Jamie
Jane Lucas: Sheila
Patrick Driver: Patrick
Tony MacMurray: Tony
Alexander Perkins: Ralph
Emma Louise Manton: Emma
Philip Pickard: Phillip

Production Staff:

Writers - Ricky Gervais & Stephen Merchant
Directors - Ricky Gervais & Stephen Merchant
Producer - Ash Atalla
Executive Producer - Anil Gupta
Executive Producer - Jon Plowman




Appraisals REVIEWS:

Goldby

Appraisals is the highlight of the second series for me. Brent's staff appraisals are the best part as he saw awfully appears to be a knowlegable and wise leader respected by all his staff just because the "documentary cameras" are in the room at that particular moment. His use of irrelevant and useless quotes of wisdom are quickly sussed out by Tim as other famous people's quotes written down on a bit of paper next to brent to save doing a proper review.
He basically ridicules Dawn's dreams during her appraisal but it's nice to see Brent on the receiving end for once when trying to appraise the stoic personality free zone of big Keith who basically gives him nothing in the review and has filled out exmer as one of his weaknesses on the appraisal form.
It's probably the least cringeworthy packed episode for the second series but still has those moments such as Brent's failed lunch with the new Swindon crowd he again fails to win over and prove he's more of laugh than their old boss. Noticeable that the Swindon lot don't actually offer a lot in terms of conversation and Brent would probably have this over them if he didn't abuse them for being so lacklustre.
Brent's failed attempts are pivotal is he finally has a focus for his frustrations by the end of the episode as the staff all look up to Neil and his resentment boils over to abusing the oblivious and friendly Neil who doesn't stand for his subordinates attitude. The other bubbling development is the office romance as Tim gets asked out by new girl Rachel much to the bitterness of Gareth and the arising jealously of Dawn.
It's hard to figure out who's more deluded, Brent for thinking he's more popular than anyone in the office and getting annoyed as he's faced by the truth that he's a dick or Gareth whose attempts to chat up Rachel boarder on sexual harasssment and reveal his professed knowledge of women to be non existent.
10/10
Favourite bits:
Brent appraising Keith
Most Cringe worthy:
The Failed lunch with Swindon staff.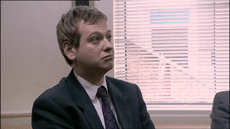 Return from Appraisals to The Office

or

Return to the Old TV Shows home page