Merger: The Office: Series 2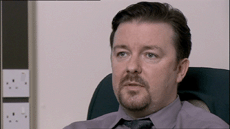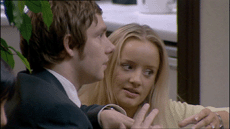 Merger SYNOPSIS:

Merger sees former staff members from the closed Swindon branch arriving to take their place at Slough. David Brent has his first meeting with Neil Godwin formerly the Swindon manager and now the new U.K. manager taking over from Jennifer Taylor-Clarke.
Neil seems swarve and capable and has the trust of his staff and easily wins over the Slough staff, David's speech made up of cringe worthy in-jokes and bad impressions and ends in hostility to his audience doesn't go down well with the new staff.
Brent tries again to win some of the Swindon staff over at the luncheon meet and greet with a semi-racist joke, Gareth told him which then gets reported to Jennifer Taylor-Clarke and Jenny and Neil are forced to reprimand David.
While Tim had become more distant and officious toward Dawn since his promotion and has a hard time trying to put Gareth in his place and also seems to be keen on new staff member Rachel much to the annoyance of Gareth.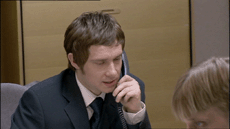 Merger CAST & CREW

Stars:

David Brent: Ricky Gervais
Tim Canterbury: Martin Freeman
Gareth Keenan: Mackenzie Crook
Dawn Tinsley: Lucy Davis
Patrick Baladi: Neil Godwin
Stacey Roca: Rachel
Ewen MacIntosh: Keith
Joel Beckett: Lee
Stirling Gallacher: Jennifer Taylor-Clark

Featuring:

Howard Saddler: Oliver
Rachel Issac: Trudy
Julie Fernandez: Brenda
Ben Bradshaw: Ben
Jamie Deeks: Jamie
Jane Lucas: Sheila
Patrick Driver: Patrick
Tony MacMurray: Tony
Alexander Perkins: Ralph
Emma Louise Manton: Emma
Philip Pickard: Phillip

Production Staff:

Writers - Ricky Gervais & Stephen Merchant
Directors - Ricky Gervais & Stephen Merchant
Producer - Ash Atalla
Executive Producer - Anil Gupta
Executive Producer - Jon Plowman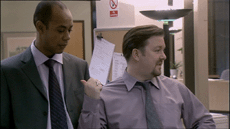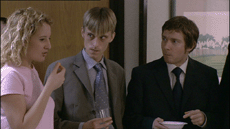 Merger REVIEWS:

Goldby

The second series opens with Merger and Gervais and Merchant come out swinging with their writing style continuing the raising the quality set with the first series. The sometimes inanity of Office life is nailed in the opening scene showing several staff members including Gareth and Brent getting into their rendition of the Muppets "m-nah, m-nup" song.
Small changes are that Ricky, Brent'slodger Donna, Malcolm and Karen are gone most in involuntary redundancies and we get the first look at the left over Swindon staff along with Neil Godwin former Swindon manager who got Brent's Promotion to the overall boss.
The cringe factior bar is raised even further showing Brent's self awareness of his bad jokes is even further from his grasp as he utterly fails to win over the new staff with his a welcome speech written as a stand up rountine littered with in-jokes and shocking impressions that bombs so badly that the few muted claps say it all.
Brent spends the rest of the episode trying to make an impression to "the Swindon lot" whether using Gareth's black man's cock joke or joking about drug use with both ending in complaints being made and Brent being forced to explain his behavior to Jenny and Neil, the former seems tired of David while Neil seems unable to work Brent out yet.
Still it's not all about Brent as we see that Tim has become a bit an officious prick toward Dawn not wanting to be buddies with her any more but still has a hard time trying to get Gareth to accept that he is more senior to him now. Tasty Rachel makes her first appearance,along with Oliver and wheel chair bound Brenda and we finally get to see how Jealous Lee is toward Tim.
What's mostly notable is that the established characters seem to show more of an "awareness" of the documentary cameras than before. Like the Swindon staff members this episode is a good meet and greet if you haven't encountered the Office before.
7/10
Favourite bits:
Keith introducing himself in a group conversation.
Most Cringe worthy:
Brent's failed "stand up routine" to the new staff.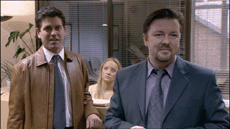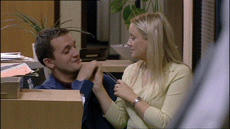 Return from Merger to The Office

or

Return to the Old TV Shows home page