Party: The Office: Series 2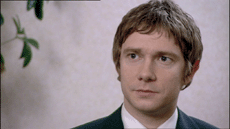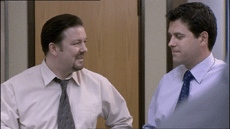 Party SYNOPSIS:

Trudy celebrates her birthday with bawdy presents from the staff. David Brent now models himself on Neil, complete with leather jacket and Dawn is feeling noticeably left out as Tim now has Rachel as his office prankster buddy.
Tim manages to sneak a dildo into Brent's office during his meeting and Neil gets Tim to give the Swindon staff a guided tour of the warehouse. The factory workers are abusive of Tim and Lee insults Dawn to amuse his co-workers.
Brent recieves a visit from representatives of training consultant firm Cooperand Webb, who offer him a 300 pound per 15 minute motivational speaking role that he accepts and tells each employee about at Trudy's office birthday celebration.
Tim and Rachel are fast becoming more than friends and Dawn attempts to be Tim's office pranking partner again. Chris Finch arrives for the party, revealing he's also close mates with Neil to the annoyance of Brent who makes sure Neil turns down an offer the Cooper and Webb people give him.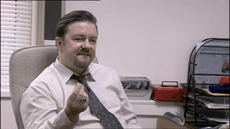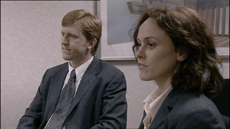 Appraisals CAST & CREW

Stars:

David Brent: Ricky Gervais
Tim Canterbury: Martin Freeman
Gareth Keenan: Mackenzie Crook
Dawn Tinsley: Lucy Davis
Patrick Baladi: Neil Godwin
Stacey Roca: Rachel
Ewen MacIntosh: Keith
Joel Beckett: Lee
Ralph Ineson: Chris 'Finchy' Finch

Featuring:

Howard Saddler: Oliver
Rachel Issac: Trudy
Julie Fernandez: Brenda
Ben Bradshaw: Ben
Jamie Deeks: Jamie
Jane Lucas: Sheila
Patrick Driver: Patrick
Tony MacMurray: Tony
Alexander Perkins: Ralph
Emma Louise Manton: Emma
Philip Pickard: Phillip
David Schaal: Glynn
Peter Heppelthwaite: Peter

Guest Stars:

Tom Goodman Hill: Ray
Jennifer Hennesey: Jude

Production Staff:

Writers - Ricky Gervais & Stephen Merchant
Directors - Ricky Gervais & Stephen Merchant
Producer - Ash Atalla
Executive Producer - Anil Gupta
Executive Producer - Jon Plowman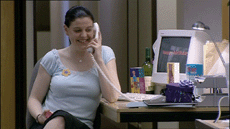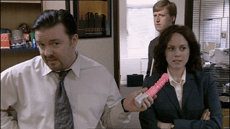 REVIEWS:

Goldby

The party is an oddity of an episode, it builds on the story threads already in place with the last half being centred round a staff members birthday celebration. Which is too uncanny in depicting that sort of stuff!It has the usual share of amazing lines Brent's wrongly phrased "what am I doing in my office with a dildo?" is a stand out.
The Swindon characters are fleshed out more in each episode, with opinionated Welsh woman Trudy being the bawdy loud mouth of their group ( and celebrating her birthday), Oliver is the nice dude constantly perplexed by Brent's likeable but semi racist atttitude to him, Brenda is the mousey one and Rachel the sexy one whose becoming more prominent every episode as she gets more involved with Tim.
Dawn has been sidelined as Tim's office practical joker buddy and unlike Dawn Rachel is quite happy to pursue something physical with Tim. Poor Gareth, try as you might to like him, his unwanted attentions to Rachel are even more painful than his ones to Donna, the guy flunks every attempt. To actually think a likely attraction to a woman is to prove how much better he is to them - is so torturous!
Brent is getting poached to be a motivational speaker for a fair few quid and this marks the beginning of the period in the series where he just goes from being not just pathetic and irritating to being an obnoxious a-hole.
Man the way he treats his boss Neil with blatant dismissive comments, obvious dislike and constant one-up-man-ship it's surprising Neil doesn't belt him or at least give him another talking to. Patrick Baladi is great showing Neil as a man who is obviously sensitive to documentary cameras and trying to avoid their gaze.
He must be a guy of supreme patience and tolerance for to put up with Brent's worsening antics. The Cooper and Webb guys are perfect in portraying visitors who think they've walked into a madhouse and Finchy makes another return appearance and is more chummy with Neil than with Brent which ends in Brent's gag that literally silences the floor.
6.5/10
Favourite bits:
Brent trying to impress the Cooper and Webb consultants with his footwear.
Most Cringe worthy:
Gareth proving to Rachel how much better at cards he is to her.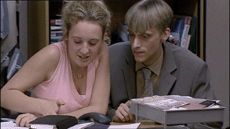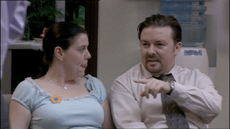 Return from Party to The Office

or

Return to the Old TV Shows home page