The Office Christmas Special Part 1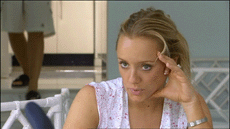 The Office Christmas Special Part 1 SYNOPSIS:

Another documentary team returns to the offices of Wernham Hogg three years after the original BBC documentary crew visited for their reality series but things have changed ad there are several new faces amongst the work crowd.
Gareth has been the manager for some time and Tim is still there as senior sales clerk and the documentary team also tracks down the departed David Brent who now works as a travelling salesman during the day and makes c-list celebrity appearances based on the fame he gained from the original documentary series.
Neil is getting irked at the frequent visits David pays to his former colleagues at Wernham Hogg especially Gareth who is trying to help David find a girl, via online dating, to bring along to the annual Christmas party.
The documentary team are also interested in Tim's past lack of history with Dawn and they track her and Lee down to Florida in the States where they have been living for the last two years and offer them an expenses paid trip to return to Slough for the Christmas party.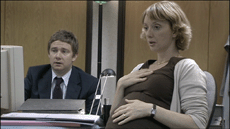 The Office Christmas Special Part1 CAST & CREW

Stars:

David Brent: Ricky Gervais
Tim Canterbury: Martin Freeman
Gareth Keenan: Mackenzie Crook
Dawn Tinsley: Lucy Davis
Patrick Baladi: Neil Godwin
Elizabeth Berrington: Anne
Ewen MacIntosh: Keith
Joel Beckett: Lee
Ralph Ineson: Chris Finchy Finch
Steve Brody: Peter the Agent

Featuring:

Howard Saddler: Oliver
Rachel Issac: Trudy
Julie Fernandez: Brenda
Ben Bradshaw: Ben
Jamie Deeks: Jamie
Jane Lucas: Sheila
Patrick Driver: Patrick
Alexander Perkins: Ralph
Emma Louise Manton: Emma
Philip Pickard: Phillip
Martha Howe-Douglas: Mel the Receptionist

Guest Stars:

Kellie Shirley: Kim
Howard Brown: himself
Paul 'Bubble' Ferguson: himself
Ash Varrez: Paul the Shop Keeper
Alec Christie: Nightclub MC
Mike McClean: Love Lottery Host
Greg Burns: Grocery store customer
Robert Purdy: Office customer
Ashley Jenssen: Voice of Interviewer
Vanessa Upton: Girl in Music Video

Production Staff:

Writers - Ricky Gervais & Stephen Merchant
Directors - Ricky Gervais & Stephen Merchant
Producer - Ash Atalla
Executive Producer - Anil Gupta
Executive Producer - Jon Plowman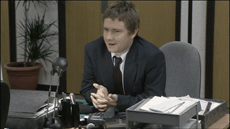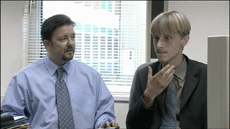 The Office Christmas Special Part 1 REVIEWS:

Goldby

Only a year since the mockumentary series ended and on a rather downbeat note, the office is being revisited to tie up any and all loose ends in the Christmas Special. Part 1 sets everything up neatly. Some of the crew from the series are still there, notably Tim and Gareth, the latter having taken over from Brent as manager.
David Brent himself is a focus point for the new documentary team (apparently different to the last one) who follow him around to find out what's he's being doing since Wernham Hogg days. He's now a sales rep but his attitude hasn't changed much.
Brent's deluded that he's living the high life with live celebrity appearances an agent gets him at local clubs and pubs living off his Office Documentary "fame" and getting booed and jeered by the crowds whenever he makes inept banter with the MC.
Apparently three years has passed in the Office universe since series two ended and the doco team are keen in probing Tim about his past friendship with Dawn and tracking down the woman herself in Florida when she still lives with her moronic fiancee Lee living out his dream of doing absolutely nothing and offer to pay for them to visit Slough, news that surprises Tim.
Actors Lucy Davis (cor!)and Joel Beckett both look as if they visited Florida to get tanned and slimmed down before filming the Christmas Specials. The Special looks slightly different in terms of personnel but the amazing thing about the Christmas specials is the uniformity they bring to the series as a whole even without Brent and Dawn being part of the Office dynamic.
It's great learning other little facts such as Brent successfully sued Wernham Hogg over his dismissal ( and STILL has the nads to pay regular visits!)and that he has a failed top ten single. Neil this time round is much more of an outright prick to David and takes delight in subtly winding him up about bringing a date to the Christmas Party.
Tim still winds up Gareth despite him being the manager but has to put up with new desk mate Anne with Elizabeth Berrington being eerily brilliant as the pregnant, opinionated loud mouth. AND Tim endures the new personality free new receptionist. It rolls along with a steady pace and builds up everything by the end of part one has Dawn is flying back with a fiancee she barely tolerates and David Brent hits absolute rock bottom after a celebrity appearance.
8.5/10
Favourite Bits: Brent and Gareth facing off about him phoning ahead on his visits ( who can he visit a company he successfully sued?)
Most Cringe worthy bit ever: Brent getting doused with beer after being rude to another c-list celebrity in public.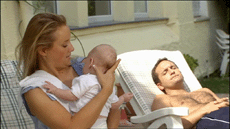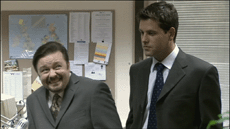 Return from The Office Christmas Special Part 1 to The Office

or

Return to the Old TV Shows home page