The Wedding Party: Fawlty Towers: Season 1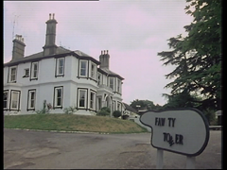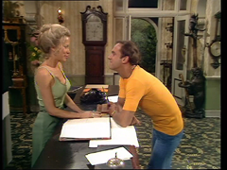 The Wedding Party SYNOPSIS:

The Wedding Party

Summer in Torquay and a frustrated Basil is working hard at the bar while Sybil, laughs and flirts with a guest. Basil then checks in Alan and Jean a couple who are obviously sexually preoccupied but the prudish Basil refuses them a room together as they are unmarried.




Sybil reverses this decision however and Basil is left to deal with Manuel who has prepared a thank you speech for his boss for giving him the night to celebrate his birthday. Basil finds relief politely flirting with French guest Mrs. Peignoir. Basil then catches Polly getting passionate at the front desk with her boyfriend. Basil's natural prudishness comes to the fore even further as he tells her off.

After Mr and Mrs. Lloyd check in, Basil shows them to their rooms but finds a half dressed Polly in and out of Jean and Alan's room and then later in the Lloyds room embracing Mr. Lloyd. Topped with Alan's queries that he'd like something from the chemist Basil is morally outraged everyone is making fun of his prudishness and asks the Lloyd's, Alan and Jean to all to leave until Sybil explains they are all one family and Polly's friend's.

After bed time the next night when Sybil has left to tend to her friend Audrey, Basil tries to fend off the drunken advances of Mrs. Peignoir but his unfortunate accidents with her and later with the hung over Manuel see Basil caught in seemingly compromising positions with both people by various members of the wedding party with no explanation he can offer.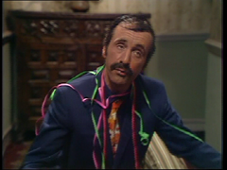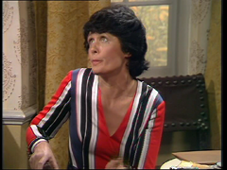 The Wedding Party CAST & CREW

Stars:

Basil Fawlty: John Cleese
Sybil Fawlty: Prunella Scales
Manuel: Andrew Sachs
Polly Sherman: Connie Booth
Major Gowen: Ballard Berkeley
Miss Tibbs: Gilly Flower
Miss Gatsby: Renee Roberts

Guest Stars:
Mrs. Peignoir - Yvonne Gilan
Mr Lloyd - Conrad Phillips
Mrs. Lloyd - Diana King
Alan - Trevor Adams
Jean - April Walker
Bar Guest - Jay Neill

Production Staff:

Writers - John Cleese & Connie Booth
Director - John Howard Davies
Producer - John Howard Davies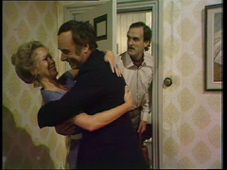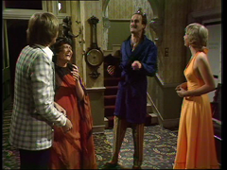 The Wedding Party REVIEWS

Goldby

The Wedding Party is a funny one but not necessarily ha ha. Although like all Fawlty Towers episodes it's well written and multi-plotted as ever...it's just that...well...for some reason I find it sort of forgettable amongst all the other gems of the first season. Every character has something to do and most memorably it's focusing on Basil's moral standpoint, combined with his sexual frustration and prudishness and how sex coming to the fore and being shoved in his face embarrasses him the most.

Everyone else is the cast is enjoying a sizzling English Summer in Torquay. We see Sybil flirting with a guest and not helping Basil with chores for the first time (presumably this is because she's already got her work done) and she goes off to look after her hardly seen on screen friend Audrey in the middle of the night, whose marriage has broken down AGAIN(first time it's mentioned in the series).

Connie Booth as Polly shows off her substantial attributes and is the pivotal person the plot revolves around, she snogs her boyfriend runs around half undressed because she was trying on new clothes her friend Jean made and is caught heavily embracing all the new guests all to make the prudish Basil think his pampered waitress is one of loose morals.

This is the first time Basil totally assumes the wrong thing of something and thinking that everyone else has sex on the brain when he really is the deluded culprit who thinks he must keep protecting Mrs. Lloyd from seeing the really innocent goings on despite the fact he it makes look like a complete loony.

The goings on look like variations of "the vicar walking in when someone's trousers are down" as typical in some Britcoms of the time - but this one milks Basil's reactions perfectly for all they're worth and shows how deluded he is with his miss placed concern for other people's morality and misunderstanding of the sexual relations between men and women.

It's highlighted by the fact this the first time we see the Fawlty's bedroom life. They sleep in separate beds, not communicating except for nasty glares from Basil when his wife's laughs at her magazine... as he says "it sounds like someone machine gunning a seal" while he sulkily reads Jaws.

Yvonne Gilan plays a delightful character in flirty french Mrs. Peignoir so it's good to see Basil treated genuinely nicely by a guest to which he responds with old fashioned charm. There's no doubt she helps heighten Basil's sexual frustration but you know he'd never cheat on Sybil for fear of having Sybil rip off part of his anatomy. Thus the innuendo's flow thick and fast between Basil and various members of the wedding party due to him thinking everything mentioned is a double entendre.

The wedding party including Alan and jean are all played nicely too. How does Fawlty Towers keep attracting nice guests? Then of course there's dear Manuel who goes to his birthday party. You feel for Andrew Sachs who adores the Fawlty's despite being treated so horribly by Basil who rips up his birthday speech. you feel even more for him as he gets horribly drunk and hung over during the course of the episode.

A great pay off but the fact that Basil gets caught by the very Wedding party guests he'd been admonishing about their morality with his trousers down in a compromising position with Manuel.... maybe does make it look like the average Britcom moment where the vicar walks in on something bawdy? Or maybe it's Fawlty Towers poking fun at that never entirely clear but its Embarrassment plus...and thus we close down down chapter three in the astonishing psychological case study of Basil Fawlty. A lot goes on in the Wedding Party it's just not that memorable until you're watching it.
6/10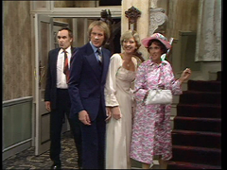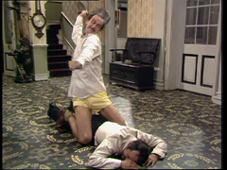 Return from The Wedding Party to Fawlty Towers

or

Return to the Old TV Shows home page